Victoria, British Columbia's capital city sparkles during the holiday season. These festive (and family-friendly) things do in Victoria, B.C. at Christmas will help you start planning the most memorable celebrations.
Experience the Magic of Christmas at Butchart Gardens
A family-favourite, Butchart Garden's Magic of Christmas event and colourful Twelve Days of Christmas displays throughout 22 ha (55 acres) property.
The Magic of Christmas runs from November 26, 2021 – January 6, 2022. Dress for the outdoors and plan to spend a few hours at The Butchart Gardens. There are restaurants for a meal or snack, as well as a cozy cafe serving hot chocolate and gingerbread.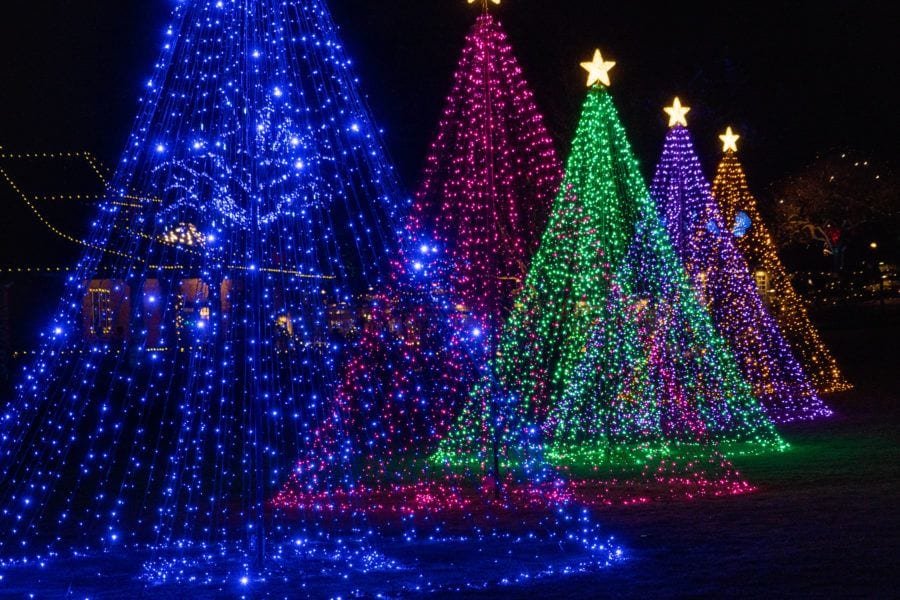 There is a lot to see at The Butchart Gardens during the Magic of Christmas, so bring a stroller if you have a young child.
The Magic of Christmas Hours and Admission Cost
Between November 26, 2021, and January 6, 2022, The Magic of Christmas is open from 3:30 pm to 9:00 pm. Please visit the Butchart Gardens website and reserve the date and time for your visit. Butchart Gardens are closed on Dec. 25, 2021.
See the Festival of Trees at Victoria's Bay Centre
Get into the spirit (and shop for holiday gifts) at Victoria's Bay Centre shopping mall. Here you can wander amongst Christmas Trees decorated to raise money for BC Children's Hospital. After viewing all of the unique Christmas trees, cast a vote for your favourite.
Festival of Trees Hours and Admission
The Festival of Trees runs from November 18, 2021, to January 4, 2022, and is open during Victoria's Bay Centre hours of operation. Admission is free and donations to mental health programs at BC Children's Hospital are welcome.
Watch the Island Farms Santa's Light Parade
A holiday tradition for many, the Island Farms Santa's Light Parade happens on November 27, 2021, at 5:00 pm. The parade begins on the corner of Bellville Street and Government Street at 5:00 pm and travels along Government Street from Belleville to Fisgard Streets.
Santa's Light Parada Hours and Admission
Santa's Light Parade begins at 5:00 pm. There is no charge to watch this parade.
Christmas at the Fairmont Empress
Known as Canada's Castle on the Coast, the harbour-front Fairmont Empress hotel celebrates Christmas in the Castle in spectacular style. Be sure to stroll the Fairmont Empress Hotel's grounds and look at the festive lights before stepping inside to see the glittering holiday decor. The hotel hosts numerous holiday events including seasonal cocktails on the Veranda, festive Afternoon Tea, and a special Holi-Stay nightly rate.
Travel Tips – Festive Things do Do in Victoria, B.C. at Christmas
Be sure to make a ferry reservation well in advance of your departure date if you are travelling to and from Victoria, B.C. during Christmas and throughout the holiday season.
Read this post for more local tips on where to eat, drink, and shop in Victoria, B.C.
Beaches are a year-round destination in Victoria, B.C. Here are a few of our favorite places to walk alongside the Pacific Ocean.
Have you spent Christmas in Victoria, B.C.? What are your favourite festive things to do to celebrate the holiday season?