Often recognized by travel professionals as the best Business Class in Europe, SWISS is one of the airlines that we often fly between Europe and North America. The aircraft on this route is often the Airbus A330. You may have read about how much we love flying SWISS First on the A330. This article covers the SWISS A330 Business Class experience.
SWISS A330 Business Class Cabin and Seats
The SWISS A330 Business Class cabin decor is similar to the SWISS A330 First cabin, with charcoal-coloured fabric seats, light wood accents, and leather trim.
The 45 seats in the SWISS A330 Business Class are 52.1 cm (20.5 inches) wide and convert to a flat bed that is just over 2 metres long (200.6 cm/79 inches). For added comfort, the seats contain a built-in massage function as well as a button to adjust the softness.
There are two Business Class cabins on the SWISS A330 aircraft – the first is directly behind the SWISS First cabin and contains rows 4 and 5. This Business Class cabin is very private. If you want to sit here, select seats in row 4 because the two Business Class lavatories and the galley are behind row 5. The second Business Class cabin includes rows 6 to 14.
The seats are configured as either 1x2x1 or 2x2x1, depending on the row. If you want to sit alone, select seats are 4A, 6A, 8A, 10A, and 12A – these are the most private and have a large armrest on either side of the seat.
There is a bottle of water, blanket, large pillow, and amenity kit at each seat. Plus noise canceling headphones for use with the Inflight Entertainment System, a coat hook, coat hanger, power outlet, and headphone jack.
Inflight Dining and Drinks
Shortly after boarding, flight attendants offer passengers in SWISS Business Class a welcome drink of either still water, orange juice, or Champagne.
On flights departing from Zurich, SWISS Business Class passengers can select items from the Taste of Switzerland menu. On our recent flight, the SWISS Taste of Switzerland menu profiled the canton of Obwalden located in the center of Switzerland and local Chef Andreas Appenzeller.
The multi-page, multi-lingual menu includes a selection of appetizers, entrees, and dessert. I choose either the Taste of Switzerland or vegetarian item designed by Hiltl (one of my favorite restaurants in Zurich). A quicker menu option is available for passengers wanting to relax, sleep or work during the flight.
The thoughtful wine list includes a selection of white and red wines from around the world.
Amenity Kit
I appreciate the innovative and reusable amenity kits provided to SWISS Business Class passengers. These fabric bags come in a variety of designs, and the smaller ones can snap into the larger bags.
Thick red socks, ear plugs, a comfortable eye shade (well done SWISS), tooth care set, and lip balm are inside each Business Class amenity kit.
Full-size bottles of Swisscode lotion and facial mist, along with refreshing towels and sample size containers of facial cream are available in the Business Class lavatories.
SWISS Business Class and Arrivals Lounge
In Zurich, SWISS Business Class travelers can access the modern, light-filled lounge with numerous seating options. Here you can relax in one of the lounges, watch airplanes from the outdoor balcony, or enjoy a meal. SWISS lounge guests can dine on items from a buffet, or select hot items from a Chef-staffed cooking station.
There is an extensive selection of alcoholic and non-alcoholic beverages, including an amazing hot drink machine. My kids love the steamed strawberry-flavoured milk.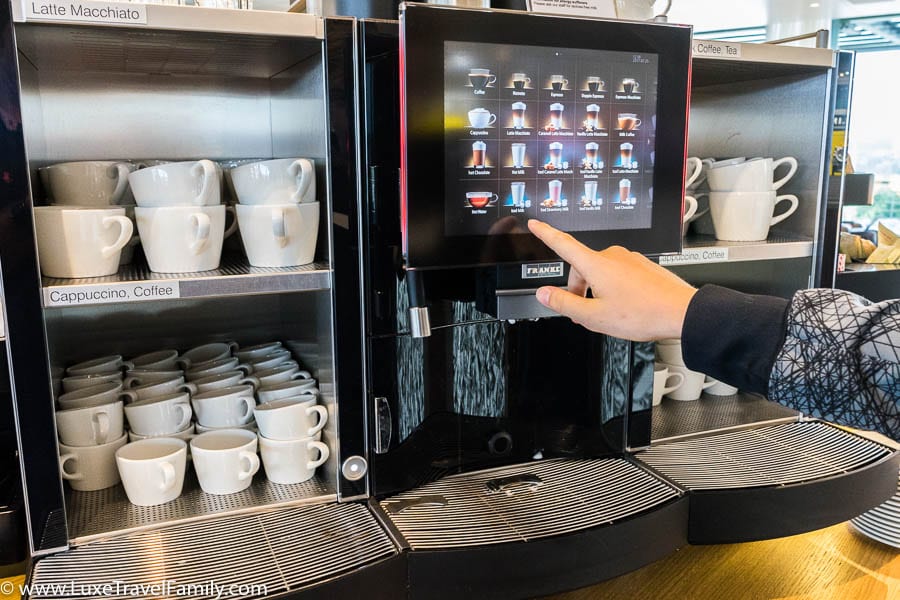 For passengers flying in Zurich, the SWISS Arrivals Lounge is an excellent spot to rest, refresh, and have breakfast or a snack before starting your day in the city. You can read more about the SWISS Arrivals Lounge here.
Opportunities for Improvement
The personal greeting to Business Class passengers doesn't happen on all flights. A warm welcome is part of a premium travel experience and should occur on each flight.
Consider refreshing the linens in the Business Class cabin. The pillows and pillow cases are in good condition, but the blankets are looking worn. On a recent flight, one of my blankets had a large clump of washing machine lint stuck to it. A cotton covered duvet would enhance the Business Class passenger experience.
A self-serve snack and drink tray, similar to the British Airways Club Kitchen, would enhance the in-flight dining experience.
Travel Tips Flying SWISS A330 Business Class
As is the case with other airlines, the service in SWISS Business Class depends on the crew. The service is often good and occasionally great.
The SWISS pilots are excellent, be sure to listen to their informative briefings.
SWISS Business Class passengers can travel with two carry-on bags (2 x 8 kg), and two checked bags (2 x 32 kg).
SWISS Business Class passengers enjoy priority check-in, priority security screening in many places, and priority boarding.
The SWISS lounges in Zurich are excellent, so arrive at the Zurich International Airport as early as possible.
We often use Aeroplan points to book our flights with SWISS. Note that SWISS don't charge fuel surcharges, making flight reward redemption an excellent value.
Have you had an opportunity to fly with SWISS?